2020 is starting off with a flurry of work. I've already sent in my first pitch of the year and am facing down a mid-month deadline for some pages on another project, so this will be pretty quick.
My ticket for the Fetes Galantes has arrived! Having the physical ticket in-hand makes it feel very real. I'm excited, and also *really* hoping I don't misplace that little piece of paper before June.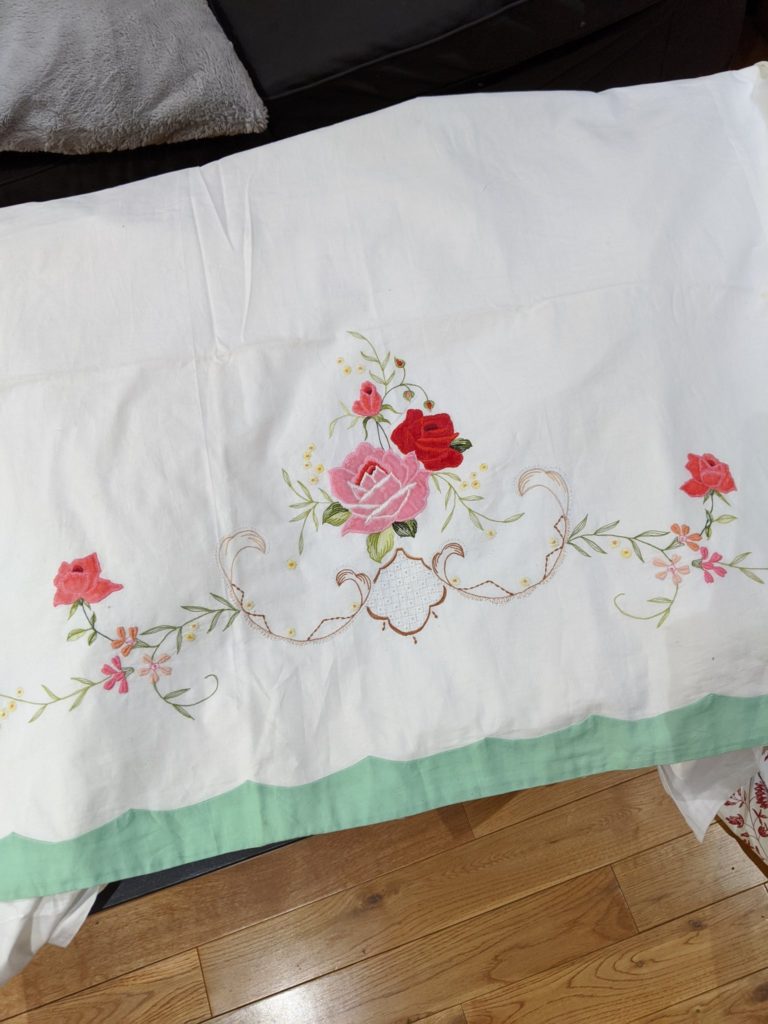 I picked up this fabric at Value Village back in December – it's a queen-sized cotton bedsheet, which was recommended on a few sewing blogs as an inexpensive way to get fabric wide enough to make an 18th century hoop skirt (called a "pannier"). The embroidery isn't period-accurate at all, but it is pretty and eye-catching, and I thought it would add a nice touch to the hemline.
And here's the first draft of my pannier! The shape is warped because the plastic boning I used to test out the structure isn't strong enough to properly hold everything in place. I've got some hoop steel on order, which should do the trick.
This style is called a "grand pannier" because it drops down to knee or calf length. The other hoop option for this era are the "pocket hoops", which are much more compact and require less fabric. However, since they only reach to mid-thigh, they aren't as effective in shaping the full skirt, especially if you get hit with a strong breeze! This Simplicity pattern by American Duchess shows pocket hoops worn with the next project on my list – 18th century stays!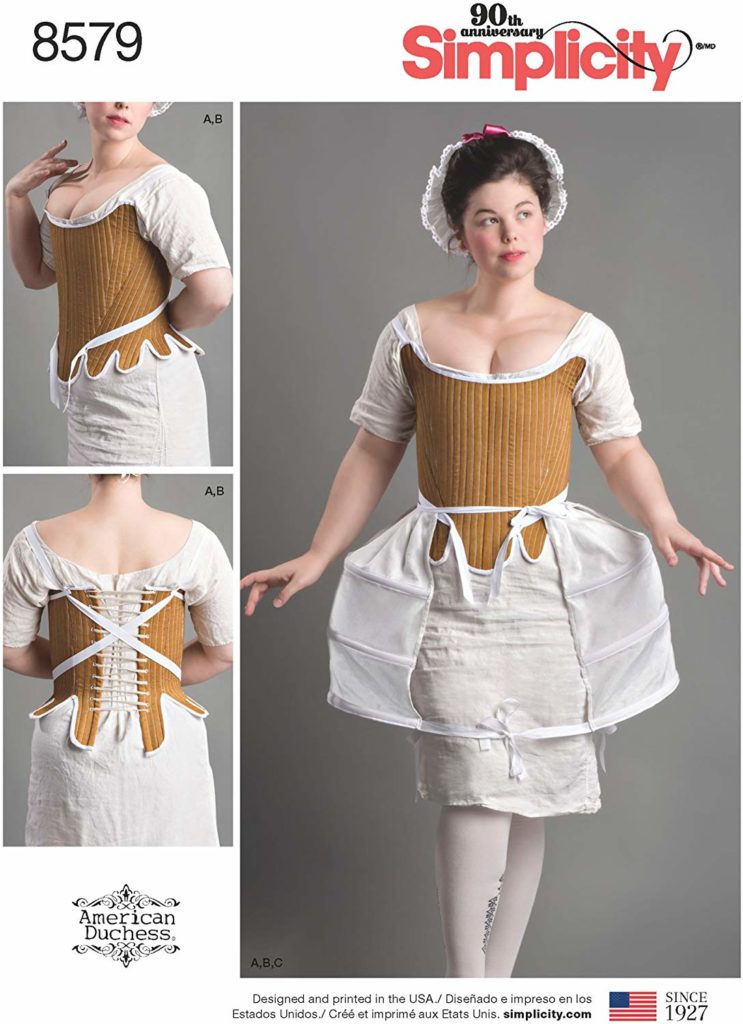 Stays are the 18th century version of corsets, a term that didn't come into much use until the Victorian era. They're designed to support the chest and slightly narrow the waist, although the look depends more on widening the hips to create the illusion of a smaller waist, rather than trying to compress the body itself. The effect is somewhat conical, with stiff tabs at the hips which help to support the panniers and skirts worn over top.
The correct supporting garments are crucial for historical costuming, especially in the periods between 1500-1910 or so, since people used a wide array of restraints, padding and layering to transform the natural human form into the silhouette deemed desirable by the standards of the time. Even a working woman would have worn stays to support her torso, often with a small hip pad that gestured towards the exaggerated hip style donned by more leisurely ladies. Pocket hoops could be both comfortable and practical to wear, with slits on the tops (matched by slits in the skirts worn over them) that allowed access to pockets worn underneath. If you're going to wear something wide enough to fit a basket of kittens in, you might as well take advantage of that storage space!
Unfortunately, all my local sources for Simplicity patterns have dried up since Fabricland stopped carrying them a while back. Instead of having access to the more recent (and more historically accurate) American Duchess version, I'm working from an out-of-print Simplicity pattern, which I bought on sale years ago under the theory that "I'll use it someday". And I finally am!
For my purposes, this is accurate enough to get the correct shape, even if some of the construction details are a bit off from how they would have actually been sewn. I generally prefer working from pattern bases rather than drafting my own, a bad habit that generally gets me good results. I'll be stealing the plastic boning from my pannier mock-up (actually 36″ zip ties bought at the hardware store!) to use in place of the traditional whalebone. The lining is linen, the middle layer cotton, and the top layer an ivory silk taffeta from my fabric stash (shown below).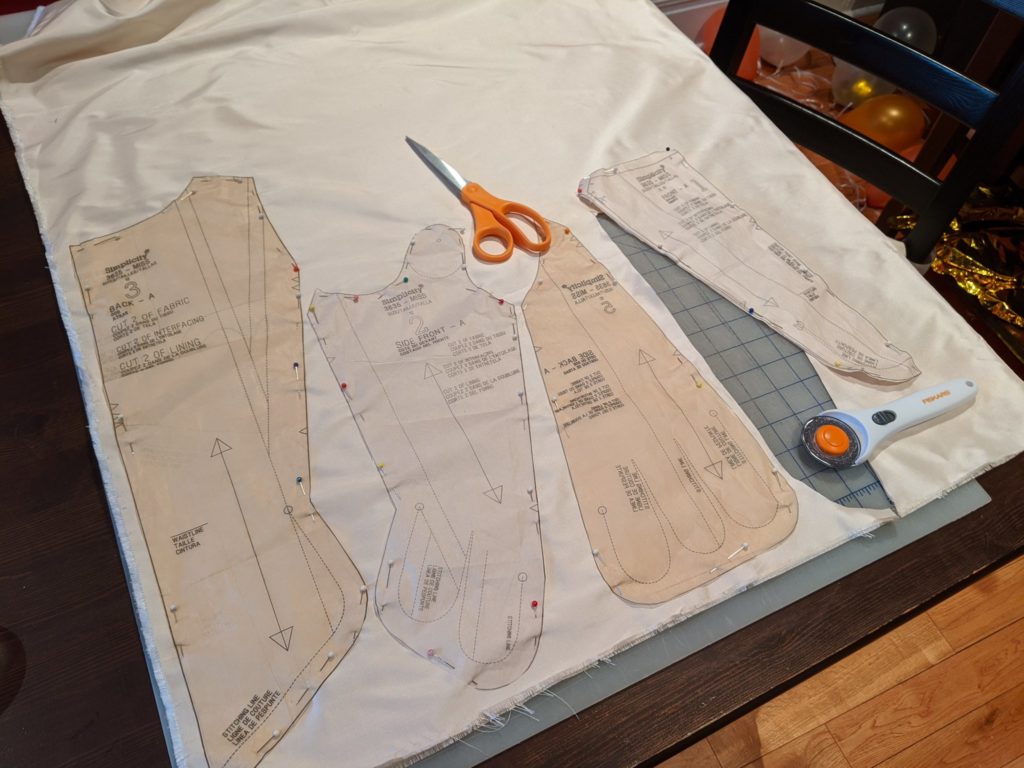 So that's where I'm at with this project. My goal is to have all my undergarments completed by the end of January, which should be do-able so long as I stay on top of my writing deadlines – so it's time to get back to the word factory!